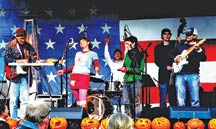 Each year the Glenwood Caverns Adventure Park highlights "Music on the Mountain" for the summer season.  Anyone can ride the tram up the mountain for free in exchange for a canned food donation ben...
Travel with your outdoor adventure gear (bikes, kayaks, rafts, paddle boards, etc) attached to your car, present at check-in at receive 20% off your stay!  Valid from 5/1-5/31, excludes 5/24 and 5/...
While people come to Glenwood to soak up Colorado rays, sometimes it's nice and necessary to take a shady break.  Recognizing guest's need for cool respite, the Glenwood Hot Springs pool will be ad...
Glenwood's annual Strawberry Days  2014 celebration will commence this year on the third weekend in June (20th - 22nd).  The festival takes place at Sayre Park on Grand Avenue in downtown Glenwood ...
April 2014 BEST WESTERN Antlers Deal Embark on a great family adventure and take advantage of all Glenwood has to offer! Book two nights at the Best Western Antlers and get a third night for free. ...