A Piece of Glenwood History
One of only a few known vapor caves in North America, the Yampah Vapor Caves have a rich history. Discovered by the Ute Native American Indians, these caves have been used for ritual and healing for over 100 years. The Yampah Spring, which also feeds the Glenwood Hot Springs Pool, delivers mineral rich steam throughout the caves via subterranean geologic chambers. These spring waters run through the caves at a stunning 125 degrees Fahrenheit!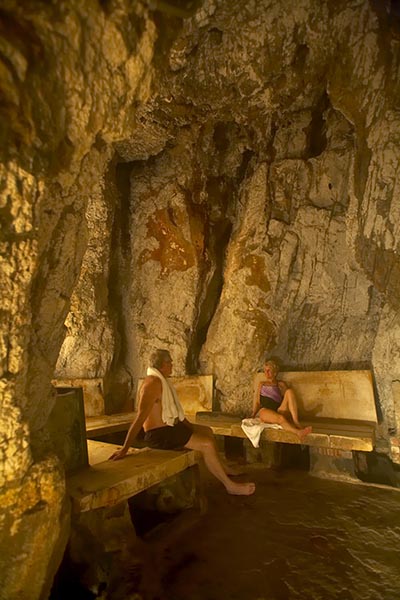 Yampah Spa Vapor Caves
The caves are divided into three natural rooms that are lined with marble benches for visitors to sit or lie down and soak in the healing, mineral rich vapors. Temperatures range from 110 – 112 degrees Fahrenheit. Guest have access to buckets and a cooling water source if the environs become to hot.
The vapor caves facility offers a solarium for breaks in between visits to the caves, an outdoor cooling deck, locker rooms and showers. They also offer spa treatments if the ultimate in relaxation is desired.
More information about the Yampah Spa and Vapor Caves