Iron Mountain Hot Springsin Glenwood Springs, Colorado
Situated alongside the beautiful Colorado River in Glenwood Springs and surrounded by Rocky Mountain views. The Iron Mountain Hot Springs features: 16 geothermal soaking pools, a freshwater family pool, and an elevated jetted spa – delivering a hot springs option for all ages and maximum relaxation.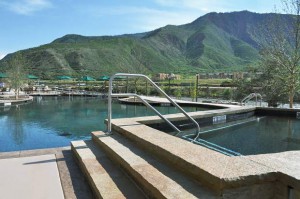 Family Pool and Whirlpool Spa
Designed to keep the whole clan happy, this is the largest of our pools. The lower portion is filled with 100,000 gallons of fresh water that's heated to a comfortable 90 degrees Fahrenheit by the geothermal exchange. A curving, gently sloped ramp into the family pool makes it accessible by wheelchair and by anyone who prefers to avoid stairs. A smaller, elevated whirlpool spa with jets sits on the edge of the family pool with a perfect soaking temperature of just over 100°F. Parents can enjoy the hotter water while supervising their children below, with the calming sounds of a waterfall in the background as water cascades from the upper to the lower section.
Soaking Pools
Thinking of something a little cozier? In time, there will be sixteen naturally shaped mineral hot springs pools, each of heated to a different temperature ranging from 99 to 108. Relax in the one that's just right for you or move from one to another for a progressive soaking experience. The pools are connected with heated walkways to keep your toes toasty in the winter. A quiet zone surrounds the soaking pools to ensure a peaceful, rejuvenating atmosphere. The soaking pools are filled with our natural thermal waters that complete a total changeover every two hours. There are more than 14 different minerals found in the analysis of our water. The five most abundant minerals in the soaking pools are iron, sulfate, chloride, sodium and calcium. Iron and sulfate are known for their relaxing qualities. Magnificent views, which vary from pool to pool, include the Colorado River as it winds through the valley, Iron Mountain, Red Mountain, the Flat Tops and the twin peaks of majestic Mt. Sopris to the south, make your visit to the Glenwood hot springs even more enjoyable.
Do you have specific questions about the Iron Mountain Hot Springs? Check out the Iron Mount Hot Springs website.

Hotels near Iron Mountain Hot Springs
Looking for a hotel near Iron Mountain Hot Springs Pool? The BEST WESTERN Antlers is located in close proximity – just 4 blocks to the Iron Mountain Pool. The natural hot springs are perfect for a romantic evening or a day of family fun, making this attraction an ideal stop while visiting Glenwood!
Stay with us! Check BEST WESTERN Antlers rates and reservations online or call us directly at (800) 626-0609.