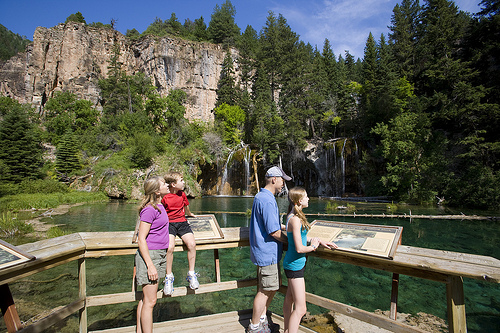 Hanging Lake
Hanging Lake above the Colorado River is a must see when on a Colorado vacation. This National Natural Lankmark is located in the canyon about 7 miles east of Glenwood Springs. From the parking area, Hanging Lake is a 45 – 60 minute hike up a canyon spur. For those not acclimatized to the area this hike, while short, can be somewhat challenging. Make sure you have sturdy hiking boots, a water bottle and poles if you need extra support. The trail is quite rocky in parts and gets fairly steep toward the top. Don't be dissuaded, the prize is well worth it as this Rocky Mountain lake beholds an almost mystical beauty. Greens and blues rarely seen in nature combine with stunning waterfalls to offer an unforgettable visual experience.
The trailhead is a bit tricky to find as you can only exit I-70 at the Hanging Lake exit heading eastbound. If you are approaching heading westbound you must pass Hanging Lake and exit at Grizzly Creek (which is several miles beyond). Get off at this exit and immediately get back on the highway heading eastbound. You can then exit directly at Hanging Lake.

During holidays and busy summer weekends start your trek early. This is one of the busiest landmarks in the area and the parking lot fills up quickly!