Glenwood Canyon Trip
Glenwood Springs is home to many friendly biking trails. Trails that are surrounded by stunning Rocky Mountain panoramas. Whether you'd like to take a tour of Glenwood Canyon or embark on a longer journey to Aspen – there is something for everyone within these canyon walls.
One of the most popular day trips in town is a ride through Glenwood Canyon. Follow the meandering Colorado River at a similar pace and enjoy the beauty of natural Colorado with your family. With four rest areas along the way, you can turn around at any point or you can make the 32 mile round trip! Bring your own bikes or get a rental from one of the many companies that provide shuttle services to the area. Touring bikes or mountain bikes are best for this ride as there are concrete ribs every 5 feet or so.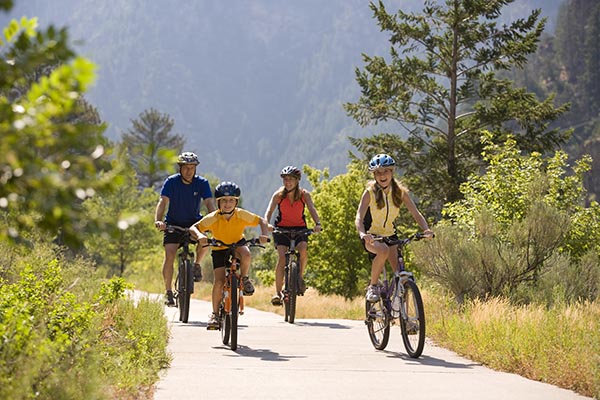 Bike Toward Aspen on the Rio Grande
Colorado's Rio Grande Trail will take you from Glenwood Springs to Aspen and back if you want. It's a 44 mile trek each way on a fantastic and smooth paved trail (~8 feet wide). Your journey will take you by mountain vistas and rippling waters, past rolling farmlands and through nature preserves. A rewarding journey for cyclists of any level. You can also take the RFTA bike express bus to Aspen and ride back toward Glenwood Springs – it's slightly downhill the whole way. A great way to take in all the scenery!
Climb to Sunlight Mountain
For those looking to sweat a little, the climb to Sunlight Mountain on 4 Mile Rd (County Rd 117) is a good option. While there is not much of a shoulder on this road, cars are used to bikers and generally provide a wide berth. This steady climb is about 8 miles up to the ski area from the bottom of 4 Mile Road. The ride down is of course a breeze and the vistas are breathtaking!
Mountain Biking Trails
There are also many trails in the area for varied levels of mountain bikers. Visit Glenwood does a great job with an overview. You'll find more Glenwood biking information on this site.